50 Years in the Angus Business 1963-2013
It's been 50 years since dad bought my first Angus heifer to start 4-H in 1963 from Dr. RC Newton, a meat scientist with Swift & Company.
Over time our focus has shifted from Purple Ribbons to addressing the needs of Commercial Bull Customers. Selecting for Calving Ease, Growth, Feed Efficiency and our continued focus on Value Added Carcass Genetics!

Michigan State Fair - Detroit, MI
UP State Fair - Escanaba, MI
MI Beef Showcase Show - Lansing, MI
St. Joseph County Fair - Centreville, MI
Monte, Hope and Earl Bordner
Grandson Derek and Earl Bordner
Monte & Robin at NCBA Convention
The Beginning of Bordner Angus Farms
Written by Earl Bordner, March 2009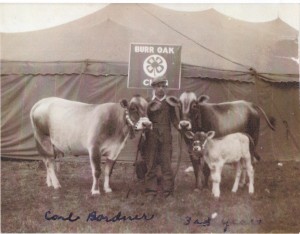 We bought the farm in 1942 & moved in 1943. I milked about 15 cows until the milk inspector got more picky wanting all dairymen to go bulk instead of cans. I thought it was a good time to think about getting out of the milk business. I started crossing the dairy cows with angus bulls and feeding out the calves. When the boys got old enough to join 4-H, I bought angus calves from the Quiren Bros who went out west and brought back 4-H calves. Later on we had a girl, I bought her a white faced calf so she would not have to compete with the boys which was a mistake. (Apparently this calf was a little wild and hard to show.)
Part of the cows we got came from a man by the name of Dr. RC Newton of Three Rivers, MI in 1963. He had been in the angus business for several years and was going out of business and giving his herd to Tuskegee Institute in Mississippi. He offered to sell as many as we wanted before he sent the rest south. We picked out 6 and that gave us a good start. Dr. Newton was a meat scientist for Swift and Company in Chicago IL in the 50's and 60's. The Newton herd was one of the first research herds the Upjohn Co (Pfizer) used for esterase synchronization in development in beef cattle.
We had also bought some heifer calves to show from an angus breeder. When Monte got old enough to go on his own and buy cattle he and a friend, Jim Fry, went out West and came home with 6 heifers and a third interest in a bull, $2000 a piece – which was top dollar back then.
Since that time Monte has been in the Angus cattle business and has done very well. Just before the time Monte and Jim went West I quit selling milk. The inspector was very upset. Monte as of today has some of the best cattle in my opinion. I am very proud.