Wooster, OH – Monte and Robin Bordner and fifteen other members of the Michigan Angus Association enjoyed an in-depth and behind the scenes look at Certified Angus Beef (C.A.B.). CAB is headquartered in Wooster, Ohio and the members took part in a special visit on October 3rd to celebrate the 100th Anniversary of the Michigan Angus Association.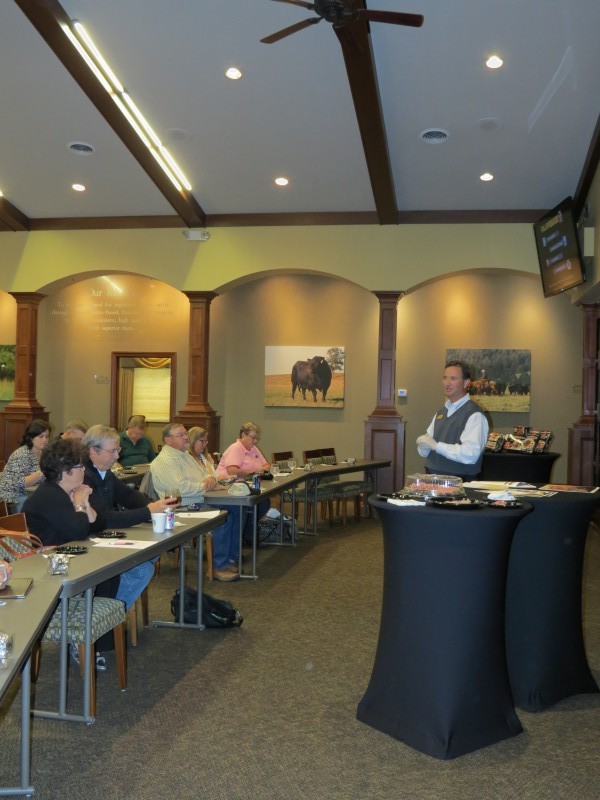 CAB is a unique stand-alone subsidiary of the American Angus Association, whose mission is to increase demand for registered Angus cattle through a specification-based, branded beef program to identify consistent, high quality beef with superior taste. CAB is considered the premium beef brand in the world and celebrated its 8th consecutive year of record volumes. During the 2014 fiscal year 880 million pounds of CAB products were sold to consumers throughout the United States and internationally. CAB is currently sold in 46 countries. Mark McCully, Vice-President of Production reported good news for Angus producers. Approximately $50 million was paid back to cattlemen in grid-based premiums as reported by packers back to CAB.
The CAB Education & Culinary Center, opened in February 2012 was the hub of the visit. It includes industrial kitchens, multiple meeting space, dining areas and a meat lab. The center is capable of hosting multiple groups for hands-on learning and promotional events.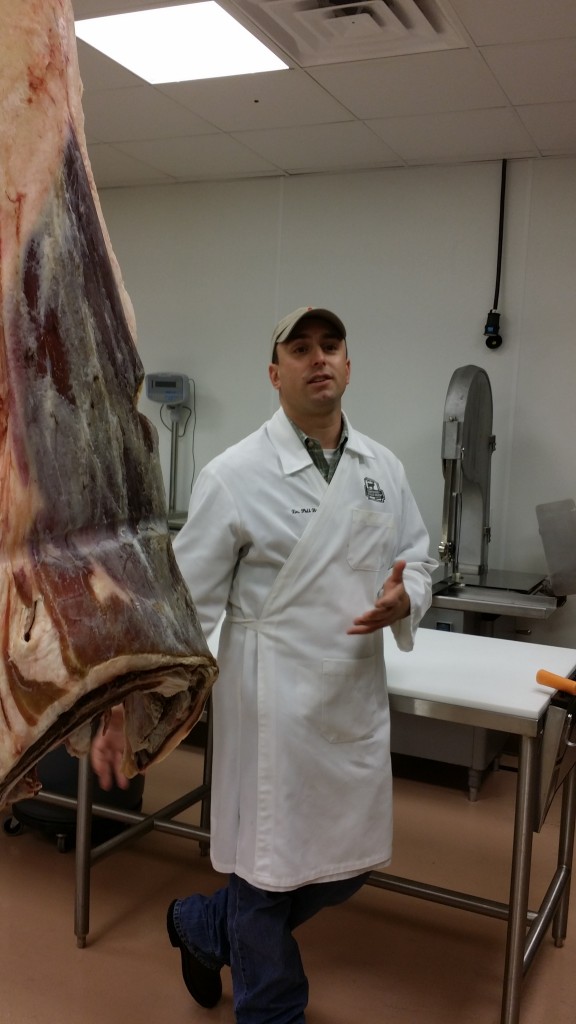 Dr Phil Bass, corporate meat scientist, gave participants a live view of a CAB carcass and perspective of the 10 science based specifications. Dr. Phil's passion and excitement to educate consumers, producers, suppliers and chef was obvious and contagious. Recently named as one of the "40 under 40" in agriculture by Vance Publishing Corporation, he is passionate about his work and developing new ideas. His knowledge, passion and excitement will drive success throughout the CAB team as they work towards identifying new and innovative ways to utilize larger carcasses.
One of the goals of CAB is to bring value-added, convenience products to consumers. Brett Erickson, director of the brands value-added product line shared samples of the CAB deli roast beef that Midwestern's can find in local Meijer stores. This high end deli product contains no soy fillers and delivers a healthy, delicious eating experience. Erickson also presented CAB convenience items that are either currently on the market regionally or are in the development stage of being marketed.
Visitors were treated to a tour of the CAB office building which displays an array of signs and posters from past marketing campaigns, original logo designs and photos of the key people behind the conception of CAB.
Chef Tony Biggs served our group a noon-time meal fit for a king or queen. Participants enjoyed an expertly prepared lunch featuring value added CAB Short Ribs.
The afternoon session included an overview of the consumer research data driving the marketing efforts at CAB. The education and marketing team spends countless hours reaching out to all segments of the industry. From providing restaurants with custom menu designs and organizing on-farm tours for chefs to in-store promotions, radio, tv and online media promotions. Deanna Walenciak, director of education, gave the group a preview of the new farm-to-table heritage campaign that will be rolled out by CAB over the coming year.
President John Sticka joined the group to discuss how CAB stays on mission and strategies for continued growth in relevance and economic impact moving forward. There are several ways interested cattle producers and consumers can learn more about CAB. Producers can plug in to the www.cabpartners.com website and the Blackinkbasics Blog at www.blackinkwithcab.com. Consumers can find great recipes, learn more about beef cuts and meet the ranchers behind CAB at website www.certifiedangusbeef.com. You can also reach CAB through these social media outlets. www.facebook.com/certifiedangusbeefbrand
www.twitter.com/CertAngusBeef
www.instagram.com/certifiedangusbeef
www.pinterest.com/certangusbeef